Commercial & Industrial Standard Offer Program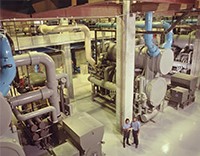 A qualifying facility will be one with eligible peak demand reduction. Large commercial facilities must have a peak demand of at least 100 kW at a single site or a combined peak demand of at least 250 kW at multiple sites. Each large project must achieve a minimum summer peak demand reduction of 15kW and/or 100,000kWh. Small commercial facilities may save up to 15kW and/or 100,000kWh.
For more information, please refer to
'Additional Program Information'
below. Should there be additional questions, please email our program contact at
CNPEE@centerpointenergy.com
How to Apply:

Step One:

Sponsor Application

Project participation begins with a one-time Sponsor Application.

Step Two:

Project Application

Registered Sponsors can complete the one-page Project Application. This allows us to engage with you as early in the design stage as possible.
Please submit all project applications by Friday, October 14, 2022 11:59 PM CST. Only submit applications for projects that will complete by Thursday, December 1, 2022



Important Program Information
The 2022 Commercial & Industrial Standard Offer Program is opened for new applications. The 2022 budget is $6.2M. Registration details can be found in the
Sponsor Portal Guide
.
Incentives
Paid on kW and kWh reductions; vary by measure type
Most measures are paid 100%, when applicable, after final inspection
At CenterPoint Energy's discretion, M&V projects receive initial payment of 40 percent will be made after measures have been installed and inspected
Final payment of up to 60 percent will be made upon approval of the Savings Report
Measurement and Verification (M&V)
Project sponsors are responsible for conducting all project M&V.
M&V approaches can be classified according to their relative level of detail and rigor; this program involves three distinct M&V approaches:
Deemed – predetermined energy savings values for particular applications
Simple M&V – energy savings are based on typical equipment characteristics and some short-term testing or simple metering
Full M&V – requires project-specific plan developed in accordance with International Performance Measurement and Verification Protocol
Additional Program Information
CNP Vendor Master
CSOP Participation Agreement
2022 CSOP PROGRAM MANUAL
2022 Commercial & Industrial Standard Offer Program Presentation
2022 Lighting Calculator
2022 HVAC Calculator
2022 Roof Calculator
2022 Motor Calculator
2022 Refrigeration Calculator
2022 HVAC VFD Survey
2022 Window Film Calculator
2022 Water Pumping VFD Survey
2022 Other Measures Survey Form